Jeff's 420-Irish Cream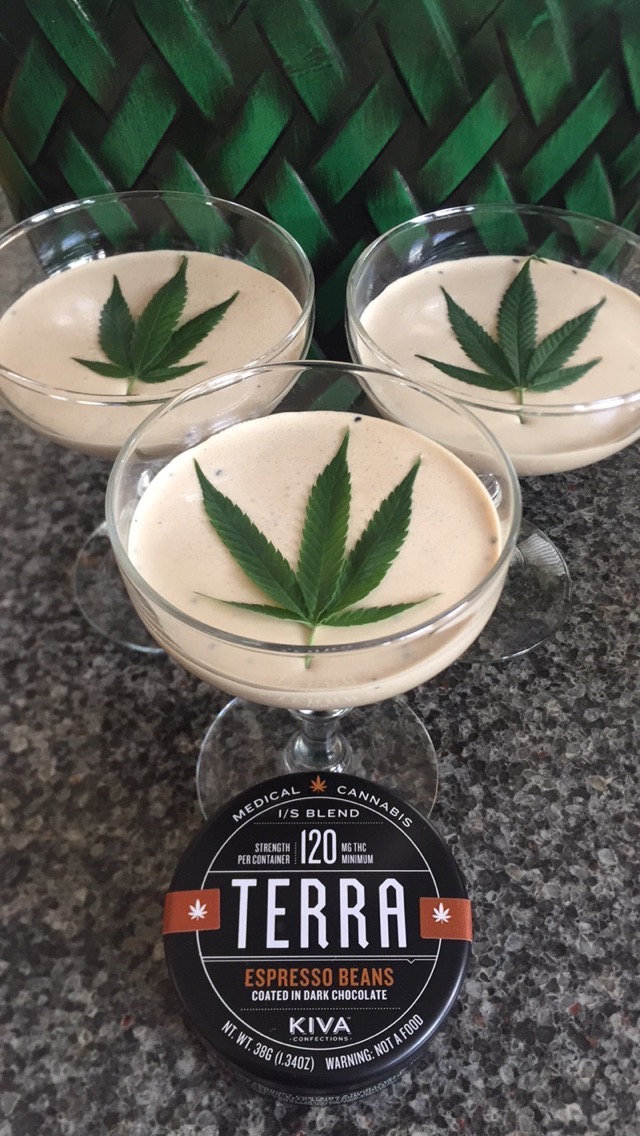 Better than Bailey'stm…non-alcoholic. Infused with THC!  A totally unique experience!
Number of servings: 6
Ingredients
1 ½ cups Jamesontm Irish whisky (we are going to boil out the alcohol content)
5 Ice cubes
6 KIVA Terra Espressotm beans (5mg each*)
2 teaspoon pure vanilla extract
1 shot of espresso or 1 teaspoon instant coffee
1 cup heavy cream
½ cup sweetened condensed milk
1 Tablespoon Hershey'stm chocolate syrup
Steps
Bring Irish whisky to a boil over a Medium/Low flame for 5 minutes to reduce and boil off the alcohol content. 

To finish, (this is fun but be very careful!), using a long neck lighter, ignite the whisky in the the pot.  A light blue flame will burn on top of the alcohol for about 2 minutes until it has all evaporated.  Set aside to cool.
In a blender add ice cubes, vanilla, espresso, heavy cream, sweetened condensed milk, Jamesontm and KIVA Terra Espressotm beans.

Blend until smooth and creamy
Approximate THC per Serving* (5mg) based on KIVA's Terra Espressotm beans THC content
JeffThe420Chef is a private cannabis chef, medible's expert and Author of The Ganja Gourmet: The Joy of Cooking with Cannabis (Harper Collins Wave, June 2016). He is also a culinary instructor and media personality. The Daily Beast calls him the 'Julia Child of Weed', Newsweek calls him the 'Ganja Gourmet' and Elite Daily calls him 'The King of Edibles'.  Inventor of 'Tasteless' CannaButter and CannaOils.  Courtesy : JeffThe420Chef's '420-Irish Cream' © 2016  JeffThe420Chef.