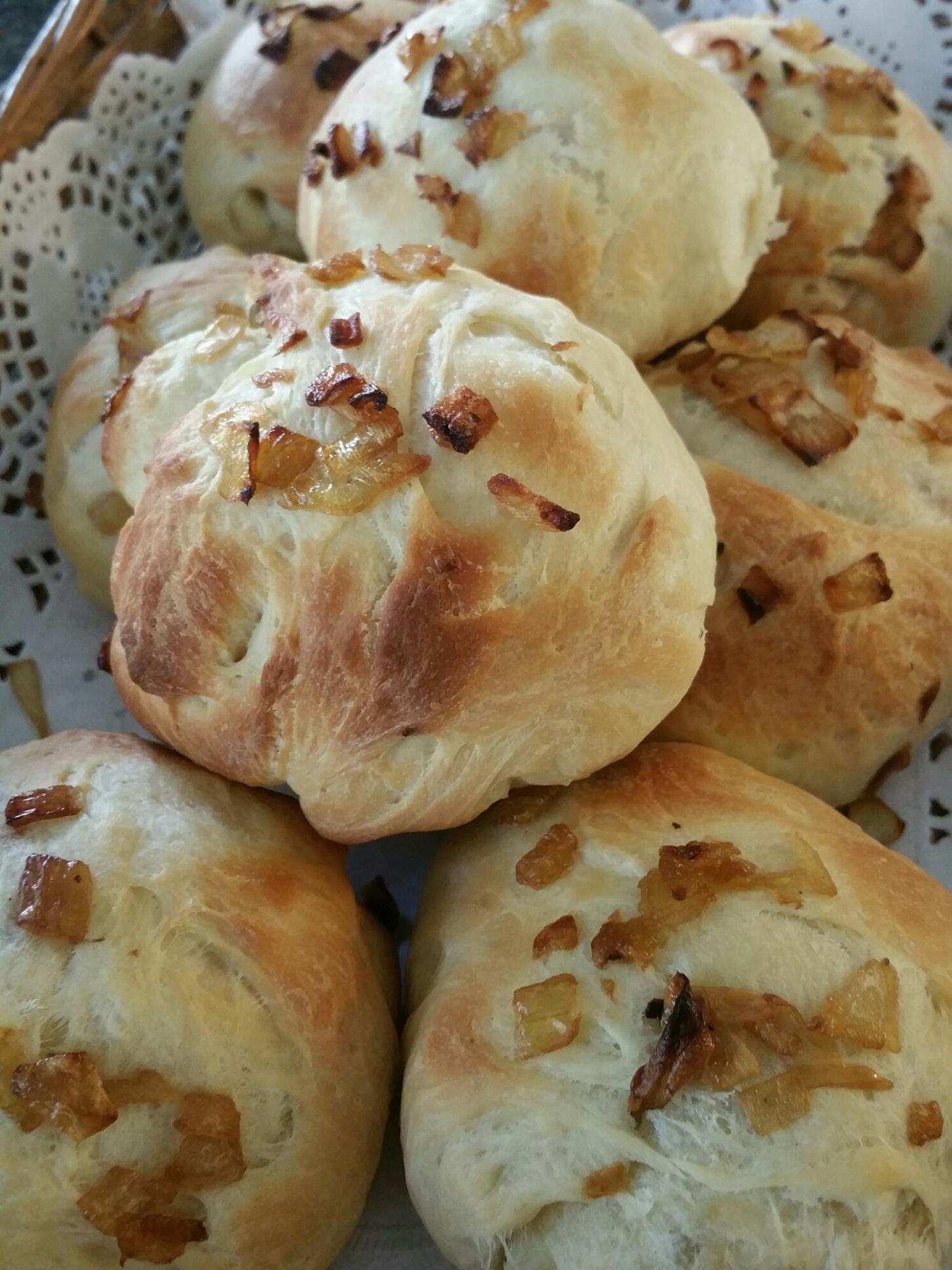 How to Make High CBD Fluffy Onion Rolls with JeffThe420Chef
[headline]This recipe is truly one of a kind! Moist, flaky, fluffy and flavorful and chock full of CBD so you can start your day (and New Year) the right way![/headline]
IMPORTANT! Make sure you know the percentage of THC and/or CBD per gram in the flower or bud you are using. You will need this information to properly measure and dose your servings*.
*Please refer to my THC/CBD Calculator to help you estimate the number of milligrams of THC and/or CBD in your recipe.
Estimated dosage per roll
@10% CBD: 13mg
@15% CBD: 19mg
@20% CBD: 25mg
INGREDIENTS
1 package Active Dry Yeast

¼ warm water (95-110º)

1 ¼ cup+ 2 TBSP High Gluten Flour

1 ¼ cup + 2 TBSP All purpose flour

½ teaspoon sea salt

3 TBSP raw cane sugar

2/3 

cup warm milk

1 Large egg

½  stick salted "Light Tasting" canna-butter (high CBD), softened

2 TBSP Canna-Coconut oil (high CBD), solid but softened

½ Onion (diced small)

2 shallots (diced)
STEPS
Dissolve yeast with ¼ cup warm water and a pinch of sugar.  Let sit for 10 minutes until it activates and foams.

In a stand mixer, using the dough hook, mix flours, sugar and salt.

Add in yeast, egg and milk until combined.

Slowly add softened canna-butter to dough as it kneads.

When dough is smooth and elastic and pulls away from the bowl, roll into a ball and place it in a large bowl.  Cover and let rise for 1 hour.  It should double in size.

In a large pan, Sauté onions and shallots in 1 TBSP grass fed butter for 5 minutes, until translucent. Add a pinch of salt and sugar.

Add in canna-oil.  (See recipe here) Continue to sauté for 2-3 minutes on Medium heat till lightly golden brown.  Remove from heat and let cool.

Transfer dough to a large working surface and divide into 12 equal parts

Spoon 1 teaspoon of onions into the middle each dough segment and roll tightly into balls.  Place rolls on parchment paper lined large baking pan about 2" apart.  

Top each roll with leftover onion, cover with plastic wrap and let rise for 30 minutes.

Preheat oven to 400º

Bake for 10 minutes and voíla!
[infobox]This Recipe Uses a 'High CBD' concentrated strain of Cannabis
The Canna-Oil used in this particular recipe is considered high in CBD.   Thanks in part to cannabis' legitimacy as a medical option, CBD is rivaling THC as the cannabinoid under stronger consideration.   CBD is the abbreviation for cannabidiol, second only to THC when it comes to average volume.  Recently, research has shown CBD to have analgesic, anti-inflammatory, and anti-anxiety properties without the psychoactive effects (the "high" or "stoned" feeling) that THC provides. CBD levels of over 4% are considered to be high.
This particular strain is named 'Charlotte's Web'.  It is believed to be the highest CBD strain in the world and contains 20% CBD.    High-CBD strain choices (whether from cannabis or agricultural hemp) makes it great for those who don't want their medication to affect their daily activities.[/infobox]
JeffThe420Chef is a private cannabis chef, medible's expert and Author of The Ganja Gourmet: The Joy of Cooking with Cannabis (Harper Collins Wave, June 2016). He is also a culinary instructor and media personality. The Daily Beast calls him the Julia Child of Weed, Newsweek calls him the Ganja Gourmet and Elite Daily calls him The King of Edibles.   Courtesy : JeffThe420Chef's 'Canna-Onion Rolls'  © 2015 JeffThe420Chef.