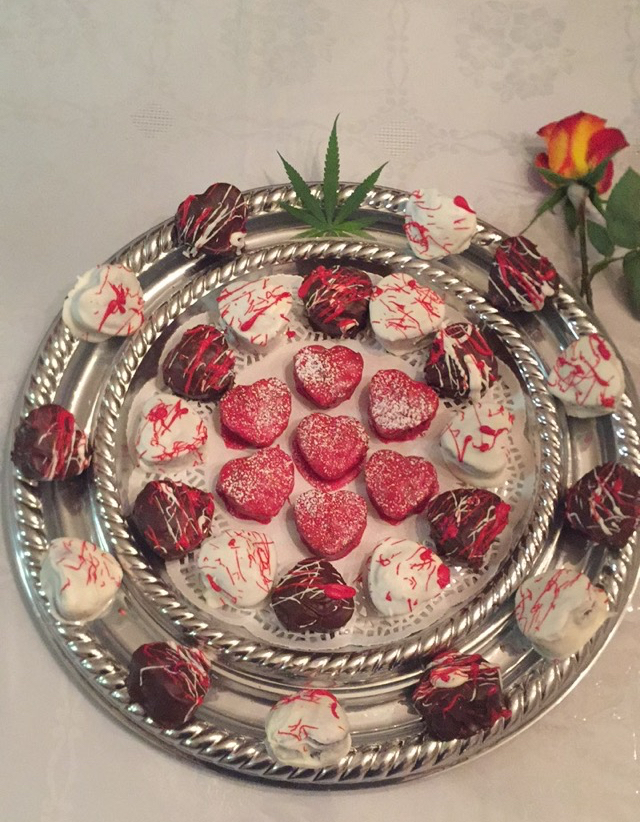 How to Make Canna-Baby Luv Bites with JeffThe420Chef
[headline]Getting ready for Valentine's Day?[/headline]
Try out my super easy recipe to make your Valentine a box of [em]Canna-Baby Luv Bites[/em]
WHAT YOU'LL NEED
Heart Shaped baking mold
Your favorite brownie mix
Dark Melting Chocolate
White Melting Chocolate (to decorate)
Food Coloring (for "striped" version) or Food "tattoos"  (optional)
Large Glass Bowl
Medium Glass Bowl
Parchment paper
INGREDIENTS
Brownie
1 Box Brownie Mix
Canna-Oil or Melted Canna-Butter (substitute the equivalent of the oil required per the recipe on the box – usually 1/3 cup)
Eggs (per recipe on back of box)
Chocolate Coating and Decorating (you can find these at Michael'stm Craft Stores or your favorite baking supply store)
10 oz (or 1/2 bag) Melting Chocolate
Food Coloring (gels are the best)  or Food Tattoos
HOW TO MAKE
Preheat oven to 340º (170oC) (DO NOT PREHEAT ABOVE 340º, this will weaken your brownies)
Follow the directions on the back of the brownie box SUBSTITUTING canna-oil or melted canna-butter for the oil in the recipe
Spray heart shaped molds lightly with cooking spray
Spoon 1 heaping TBSP of batter into each mold (should fill about 2/3)
Bake at 340º (170oC) for 25-30 Mins (add a few mins for higher altitudes)
Brownies are done when you can stick a toothpick in the center and it comes out dry, without wet batter stuck to it.
Let cool for at least 30 mins
Coating and Decorating
Place melting chocolate in a microwave safe glass bowl and microwave on high for :10 seconds
Using a spatula, vigorously mix chocolate as it melts and gets smooth and creamy right before your very eyes!
If chocolate is not totally melted after 2-3 mins of vigorous mixing. Microwave again for :10 seconds and repeat the process.
Once chocolate is melted, smooth and creamy….
Using a toothpick or small 2 prong fork to hold the brownie, carefully coat the brownie with the chocolate using a spoon or spatula.
Shake off excess chocolate by taping your wrist a few times.
Place smooth, chocolate covered brownie on parchment paper
When all the brownies are coated, refrigerate for 30 Mins

To add color swizzles,  melt colored or white chocolate in the Microwave following steps 1-4
Using a knife or thin decorating spatula, scoop up some colored chocolate and vigorously shake back and forth over brownies creating the "swizzled" look. It helps to tap your wrist as you go along. (you may want to practice a few times over the bowl before you attempt on the brownies).

Refrigerate for another 30 Mins and Voíla!
*Click on the THC/CBD Calculator link to figure out the approximate dose of THC per serving. 
JeffThe420Chef is a private cannabis chef, medible's expert and Author of The Ganja Gourmet: The Joy of Cooking with Cannabis (Harper Collins Wave, June 2016). He is also a culinary instructor and media personality. The Daily Beast calls him the 'Julia Child of Weed', Newsweek calls him the 'Ganja Gourmet' and Elite Daily calls him 'The King of Edibles'.  Inventor of 'Tasteless' CannaButter and CannaOils.  Courtesy : JeffThe420Chef's 'Canna-Baby Luv Bites' © 2016  JeffThe420Chef.