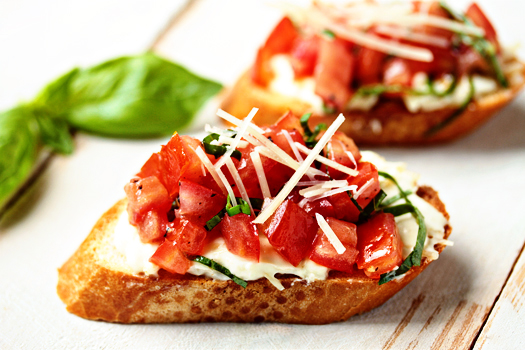 Kick Ass Bruschetta
By Delynn Armitage
Sometime ago, an old friend of the family was diagnosed with lung cancer. Loss of appetite and constant pain left him basically incapacitated and he began searching for answers. He has always been a believer in the healing properties of marijuana, but because he was unable to smoke he turned his attention to cannabis edibles. Knowing that I am a chef, he asked me to develop some appetite enhancing recipes other than the traditional cookies and brownies. He also needed natural alternatives to the multitude of pharmaceuticals he was taking. So after a lot of experimentation in the kitchen, I think we have developed some great recipes. The good people at Cannabis Health have allowed me this forum, so we could share them with you. Hopefully, you will find them easy to make, as well as beneficial to your health, as my friend has.
One of the tricks I found to cooking with cannabis is to remove the overpowering taste of the marijuana, without changing the overall flavor. Experiment with different amounts of butter in order to find the right mix, but more importantly, the right dosage to suit your needs. The first recipe I want to share with you is for a great tasting, visually appealing "Kick Ass Bruschetta". This combination of flavorful ingredients covers the taste of the marijuana fairly well, yet it still leaves a hint of what you are eating. Enjoy!
Ingredients
1/2 cup marijuana butter
1 baguette
2 whole cloves garlic
1/4 cup fresh basil leaves 1 onion
2 jalapeno peppers(seeded)
8 roma tomatoes 1/8 cup olive oil
3 tbs balsamic vinegar salt & pepper
1/2 cup Asiago cheese
Directions
Crush garlic adding half to the butter; mix well and spread on toasted sliced pieces of the baguette. (Toast your baguette slices until golden brown before topping with bruschetta mixture.)
Dice tomatoes to 1/4 to 1/2 inch pieces, depending on your own taste.
Finely chop onion and jalapeno and add to the tomatoes.
Mix in the oil, balsamic vinegar and remaining garlic. Chop basil and fold into the mix. Add salt and pepper to taste.
Sprinkle generously with Asiago cheese.
Try one small piece to test the dosage…then share with a friend.
Effects can take 30 – 65 minutes to be felt. Please ingest responsibly. Overdosing on edibles can be very uncomfortable!