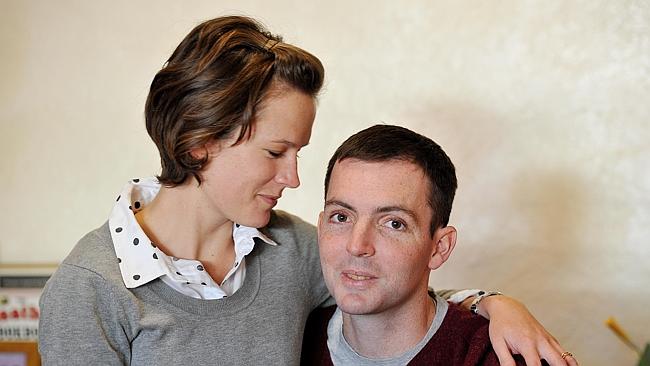 How a young man changed my mind on cannabis
This opinion piece was written by Premier Mike Baird for The Daily Telegraph, and was published on July 27th 2015. The original article, along with additional photos can be found here.

There are some things that stay with you no matter how much time passes. Almost a year ago, I met a young man named Dan Haslam, and the look in his eyes that day is something that will remain with me always.
Dan was 23, planning a future with his wife Alyce; to have children and to start a hobby farm. He wanted to talk to me about the use of medical cannabis and what a difference it had made in his battle with cancer. Cannabis oil had allowed him to eat again and gain weight — something that felt a little like a miracle after chemotherapy had robbed him of his appetite.
I soon found out a similar miracle had taken place just a little north from the Haslams in the Stevens household.
Their daughter Deisha has a rare form of epilepsy that causes frequent seizure. Conventional medicine did not help. When they started her on cannabis oil they saw almost immediate results.
There are few things more humbling than being faced with a parent prepared to do absolutely anything for their child. I saw it with Dan's parents, Lucy and Lou Haslam, and with Deisha's parents.
[quote align='left']There are few things more humbling than being faced with a parent prepared to do absolutely anything for their child.[/quote]
Deisha's father David passed away from cancer recently, but I was blessed to spend some time with him, to talk about Deisha and her illness. What I now sense is wider fervour, in the community and in minister Pru Goward, to explore what medicinal cannabis may have to offer.
If we have the opportunity to bring relief to people in the most difficult of circumstances then I believe government has a responsibility to do just that.
It is why we are spending $9 million in trials to further explore the role that cannabis-derived medical products can play in providing relief for a range of patients, including children who suffer from drug-resistant epilepsy.
And it is why my government is investing up to $12 million over four years to establish the Centre for Medicinal Cannabis Research and Innovation, which will act as a beacon for the other states and territories and ensure our research is cutting-edge. We are determined to lead the world in medical cannabis research and we are bringing together the best minds to do the research and prove the science.
In speaking with the state premiers last week it is very clear they want to participate in these trials and we have agreement from Queensland and Victorian premiers that patients in those states will be included in the next stage.
It is vital to have these trials so we can find out more about the use of cannabis for medicinal purposes, and so patients and carers don't have to play pharmacist.
Dan's own dreams of a family and a farm will never be realised. I said my goodbyes to him earlier this year, standing in the dry grass of Tamworth along with his friends and family. But his legacy lives on and this week I am proud to launch Australia's first medical cannabis trial for terminally ill patients.
This is about hope and it is about compassion. Every step we take on medical cannabis will be built on the footsteps Dan left behind — this week we are taking an enormous leap forward.
Mike Baird is Premier of NSW [New South Wales, Australia].