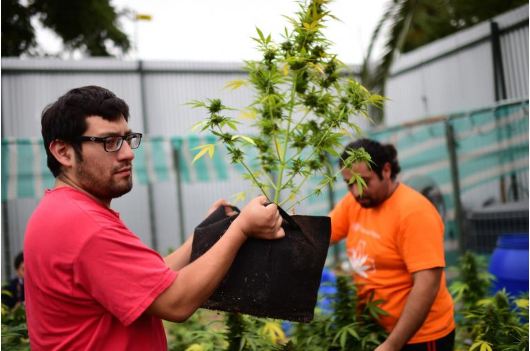 Medical marijuana cultivation ramping up in Latin America
By Simeon Tegel
This article originally appeared on GlobalPost April 13th 2015.
LIMA, Peru — Medical marijuana is winning so much global support that even the United States' surgeon general approves. Yet it seems somebody had forgotten to tell Latin America, until now.
Chile has begun harvesting what's thought to be Latin America's first ever crop of legal medical marijuana.
Plucking and trimming buds from all 425 plants, grown on municipal land in the upmarket Santiago suburb of La Florida, is expected to take about another week. When that's done, the growers hope to have enough cannabis to treat 200 cancer patients.
"This is a landmark not just for Chile," Pablo Melendez, a member of the Daya Foundation, the nonprofit cultivating the harvest, told GlobalPost. "We believe this is the first such harvest in Latin America, and hope that we are, in some way, paving the way for others too."
That could come as a surprise. Latin America is home to some of the world's top marijuana-producing countries, and there's been so much noise about the region's push to legalize it.
Uruguay blazed the trail with pot legalization in 2013, but it's still working on the details. And others, including Colombia and parts of Mexico, are moving to loosen up their drug laws.
But Chile now appears to have won the race to actually produce the region's first batch of government-approved medical marijuana.
The harvest is expected to produce 75 kilograms (165 pounds) of marijuana that will be turned into cannabis oil, which can be taken orally and gives a minimal high compared with smoking the soft drug.
Chile's Agriculture and Livestock Service gave the Daya Foundation special permission last September to grow marijuana for therapeutic purposes. Previous applications to the agency, allowed under the country's 2005 Drug Law, had always been rejected.
The mood in Chile has swung strongly in favor of medical marijuana. One poll last year found 78 percent of Chileans support it.
"We are very happy and proud but also very aware that there is still a long way to go before everyone who is suffering and could benefit from cannabis, with its many natural medicinal properties, can actually access treatment," Melendez said.
It is not the country's first "first" when it comes to medical marijuana. Last year, a Chilean housewife suffering from cancer and lupus became the first Latin American to be officially prescribed a cannabis-derived pharmaceutical.
Chilean lawmakers are also moving forward with a bill to allow cannabis to be grown at home, including for recreational use.
The measure does, however, face opposition, including from within the social democratic government of President Michelle Bachelet. Health Undersecretary Jaime Burrows has noted that cannabis remains "risky," especially for the young as their brains continue to develop.
The Daya Foundation, which promotes alternative medical treatments, grew the plants under tight security on a small plot within a larger municipal complex, protected by 24-hour guards, CCTV, a 12-foot electric fence and razor wire.
Reflecting the Chilean groundswell of marijuana support, the project came with strong backing from La Florida's mayor, Rodolfo Carter, from the conservative Independent Democratic Union (UDI) party.
He has insisted the project has nothing to do with recreational use — although he also appeared not to condemn that — and will promote the "dignity of patients who are dying every day."