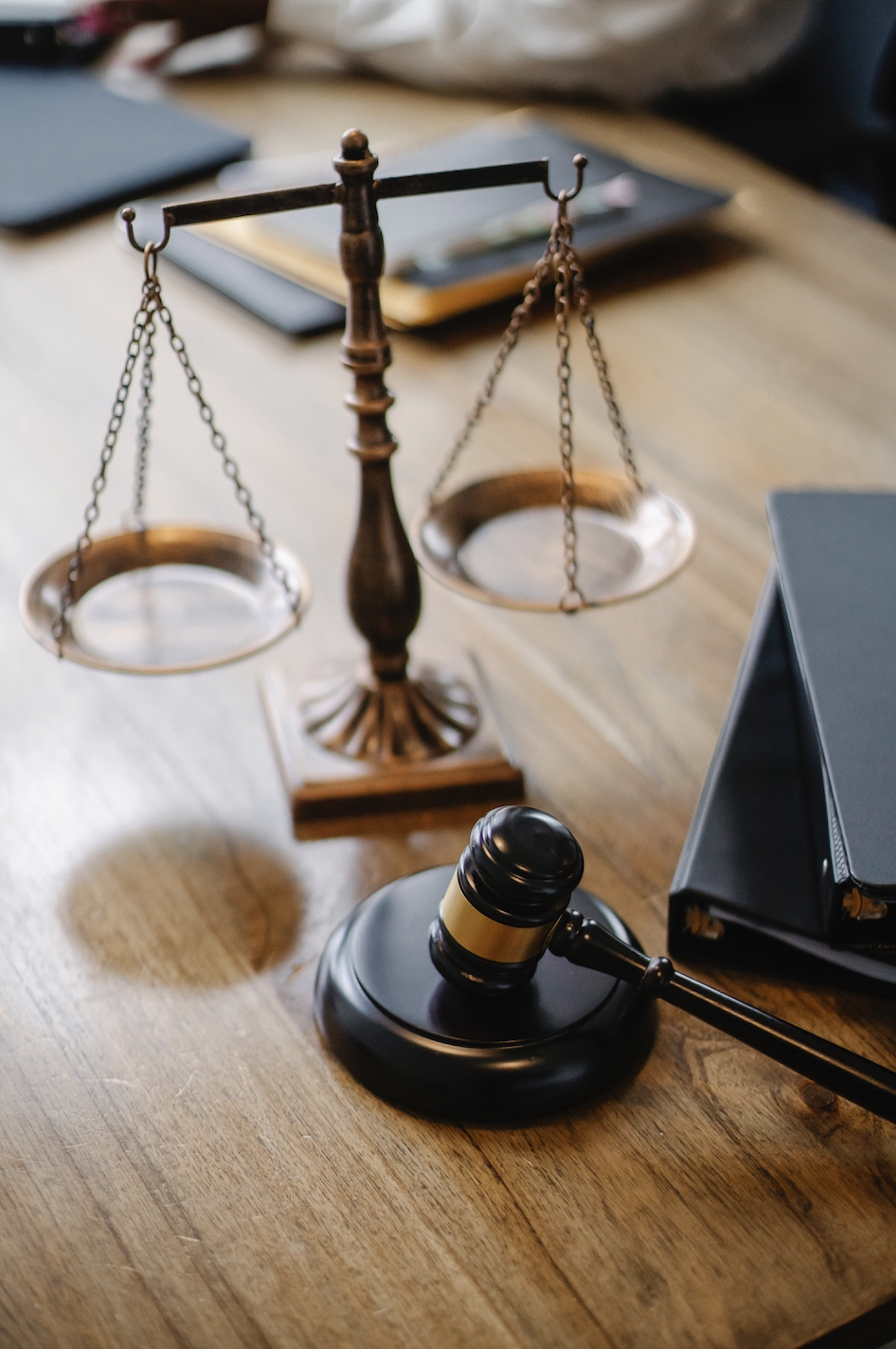 Kirk Tousaw: The Court Cases That Changed Cannabis in Canada
The first volume of Cannabis Health magazine was published in late 2002. Coincidentally, I'd just moved to Canada from the United States and begun a Master's in law thesis focusing on Canadian cannabis prohibition.
Little did I know that I would be incredibly fortunate to have my path intersect with so many of the people featured in that first edition—and that nearly 20 years later I'd be asked to pen a column for the digital relaunch. It seemed appropriate to spend this first column saying a little bit about how far we've come in those two decades.
Philippe Lucas graced the first cover under the headline, "Victoria's Victorious Cannabis Crusader," a nod to his having recently been granted an absolute discharge (he was found guilty but not convicted) on charges of possessing cannabis for the purpose of trafficking it to members of the Vancouver Island Compassion Society (VICS) for their medical use. I hadn't met Philippe yet, but I would go on to use that case hundreds of times to obtain discharges for other medical cannabis consumers, growers and distributors.
The second article in the inaugural edition was a question posed to "Legal Eagle" John Conroy, QC, about patient medical production and the possible impact of R v. Caine, Clay and Malmo-Levine, a court challenge to cannabis prohibition that was then on its way to the Supreme Court of Canada. John's answer also referenced R v. Parker, a medical cannabis challenge that was on its way to the Ontario Court of Appeal and that would ultimately become the seminal case on medical cannabis and the Charter.
I would become intimately familiar with every word of those court cases. Caine, Clay and Malmo-Levine, and the Charter of Rights and Freedoms arguments on which the case rested, became a central component of my Master's thesis, despite the Supreme Court deciding against the challengers. Over time, I would end up representing and becoming friends with all three of the litigants. John became a mentor and great friend to me also, and we would work together on several historic cannabis court cases over the next decade or so.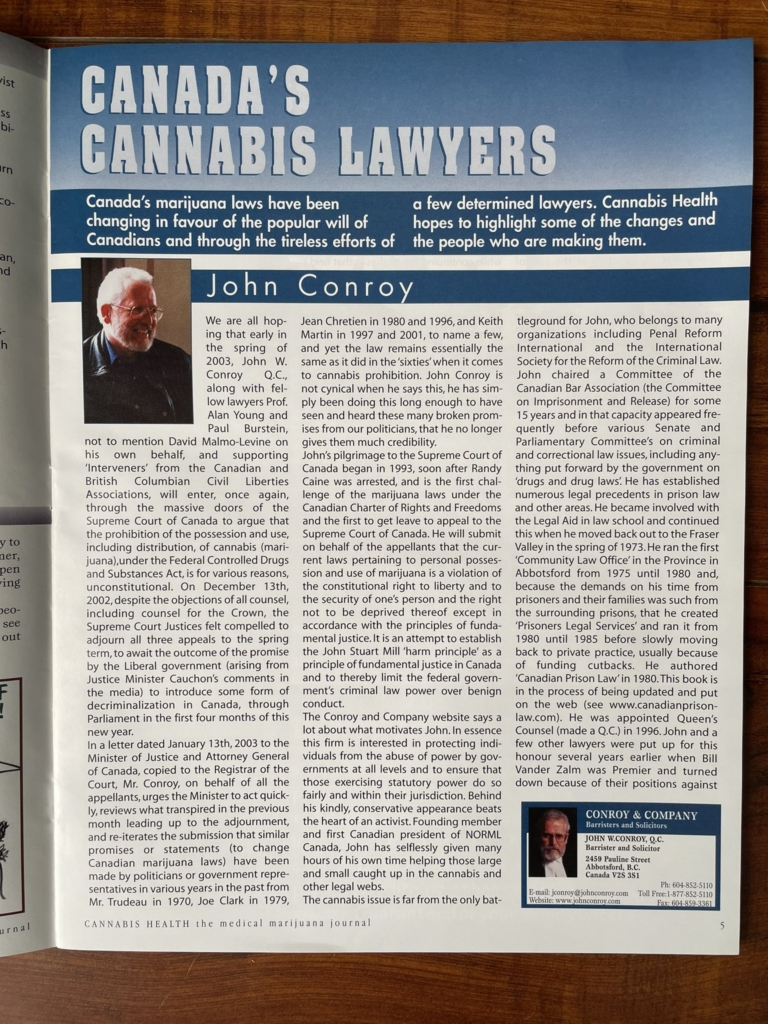 The first was R v. Beren, another case arising from VICS. We won that constitutional challenge, obtaining an absolute discharge for Mat Beren, and had restrictions in the medical cannabis program stricken as unconstitutional. Mat also had a column in that first Cannabis Health, taking growers "Back to Basics" with advice on grow room airflow.
I'd also end up representing another cannabis crusader from Victoria, Ted Smith and the Cannabis Buyers Club of Canada, in medical cannabis litigation that built on those early successes. That case, R v. Owen Smith, ended up in the Supreme Court of Canada where we won a unanimous decision holding that the government's ban on medical cannabis derivatives like cookies, hash and concentrates was unconstitutional.
While that case was happening, John and I, along with lawyers Matthew Jackson, Bibhas Vaze and Tonia Grace, took on another constitutional challenge. This time the government was banning personal medical production of cannabis entirely. That case, Allard v. Canada, ended with another victory and another declaration that the government's law violated the Charter. (In fact, the anniversary of the Allard decision is February 24, the day I'm writing this column.)
Looking back, I'm incredibly honoured to have been a participant in so much important work and I'm amazed at how much of it was foreshadowed in the very first Cannabis Health magazine. We've come a long way on our shared journey and it has been a fight for almost every step of it.
Now cannabis for recreational purposes is legal in Canada and has been since 2018. That system isn't perfect. Nor, unfortunately, is the medical cannabis regime which, other than some minor tweaks, hasn't changed much on the personal side since we won Allard in 2016. I plan to use this space in the months ahead to highlight some of the issues that persist and to offer some constructive suggestions on making it work better for all stakeholders but, primarily, for patients.
What happened to the cast of characters above? Well, John is enjoying "retirement" which, if you know John, means working a bit less and enjoying his property in the Fraser Valley. 
Randy Caine has a successful cannabis business called Hempyz and is transitioning to legal cannabis retail sales. 
Chris Clay re-founded Hemp Nation out on the west coast and is the owner of Warmland, also working on provincial retail cannabis licensing. 
David Malmo-Levine continues his cannabis activism in Vancouver focusing on the continued harms suffered by younger cannabis consumers and the difficulties faced by legacy growers and dealers with few economic resources to "go legal."
Philippe Lucas is a Vice-President of Patient Research and Access with Tilray, a legal cannabis producer, and continues his patient education advocacy. 
The VICS shut down in anticipation of reopening as a legal store. Ted Smith continues to operate the Cannabis Buyers Club of Canada, now known as the Victoria Cannabis Buyers Club, and is currently fighting to remain open and servicing patients while he seeks an exemption from Health Canada to continue his good work. 
As for me? I retired from law after cannabis was legalized and, together with Mat Beren who had become a good friend, launched a legal cannabis company—Great Gardener Farms—in 2018. Great Gardner Farms is currently a micro-cultivation applicant awaiting Health Canada licensing.